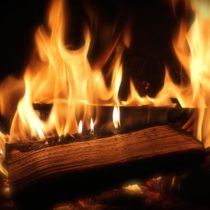 We keep the wood from the tree work we do and recycle it into firewood. We save only the best hardwoods like Oak, Maple, Cherry, Beech, Ash, and Locust. Then it is cut and split for seasoning. To insure it has dried properly, we use a moisture meter. We do not always have firewood available because we will not sell wood that has not seasoned properly.
We stack the wood onto pallets to keep it off the ground for at least a year to dry. Wood is available for pick-up in Ionia, NY but if you prefer, we can deliver and stack at your home for an additional cost.
On-Site Cutting
If you hire us to remove trees from your property and decide to keep the wood for your fireplace or wood stove, we can cut the best pieces to 16"-18" for you and we also offer free use of our log splitter to handle the larger logs.  Keeping the wood can help save money and also provide you with a free heat source in the winter.
If you would like to learn more about firewood as a heat source, check out WoodHeat.org.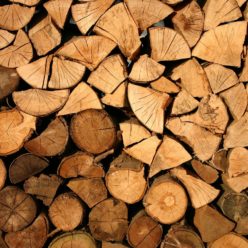 Wood Chips as Mulch
We use large chippers to convert tree debris into wood chips. These chips are not double ground and dyed like other commercially sold mulches, however they can make good mulch for paths, beds, or fill for low areas. Anyone can load their own chips at our yard at 8300 Baker Road in Ionia, However, for a delivery fee we can bring them to your home or business.  Please contact us if you would like us to deliver a load to you.
Caution: chipped wood may contain any and all species so caution is needed when using them. There is no charge for the chips but we cannot promise availability.   We always offer the chips to our tree customers first and then make them available to others on a first come basis. We also sell and deliver the double ground and dyed mulches by the yard.