Extreme Tree has been "on-the-scene" for many emergencies both at home and around the country. It is a great privilege to assist people in their time of need.
Our crews mobilized to Cat5 tornadoes in Indiana, ice storms in Massachusetts, a hurricane in NJ, etc.
Locally On-Call
We are always on-call when an emergency strikes close to home.  Please contact us day or night if you need someone to remove a tree or branch damaged by a storm.   Our team responds quickly to remove trees from power lines or off of a roof in inclement weather.  For example, we cleared two vehicles as well as the electrical service of an elderly couple the night before Christmas.  It was crucial they would not be stranded by several large spruce trees blown over by a storm.  The trees were also on the wires, so they risked losing power during the record cold.  Not only did we ensure the site was safe from further damage, but we also documented with before and after photos.  Several days later we returned once the insurance company approved completion of the job.
Extreme worked quickly in conjunction with first responders in Victor to remove a fallen tree from power lines and restore power to the residents on Main Street.  The crew then remained through the night to clear the roof and protect the property with tarps as the weather quickly changed to rain.
Much of our experience has been handling large jobs removing trees and debris from structures damaged by storms.  These jobs often require knowledge and the use of heavy equipment to accomplish them safely and without causing additional property damage.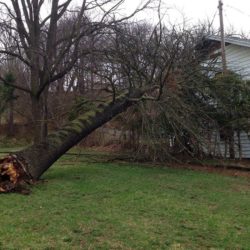 What to Do When Disaster Strikes
If your property is struck with an emergency or is damaged by a storm, make sure you document any relevant information. Record the time the incident took place, or time you discovered the damage. As well as taking several photographs to document the scene. Insurance companies want to be contacted right away but will expect you to take any reasonable action necessary to prevent further property damage. Also, hazards that are not mitigated can expose others to physical harm and should be addressed immediately.
First, we secure the area to prevent injury. Then, we document any damage we uncover. A detailed quotation with photos is provided for your review. In some cases, we provide details directly to your insurance company if you wish, such as any hazards that remain, equipment required to remediate the damage, and any other factors that affect the cost. Our crew can also secure any damage to your home with tarps or plywood. Again, you are required by most policies to prevent further damage when possible while you wait for your insurance adjuster to direct you in what steps to take next.